Feature and Follow Friday is a weekly meme hosted by Parajunkee and Alison Can Read.

This Week's Question: What are some of your favorite magazines?
My favorite magazine is definitely People Magazine. I'm constantly on their website reading about what is going on in celebrities lives and the world (to some degree). I just find it so interesting, and I'm a little addicted to it. I'm on there at least once a day checking things out.
Today's Features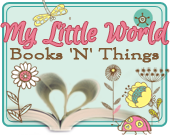 Defiantly Deviant
---
I prefer: